Product Description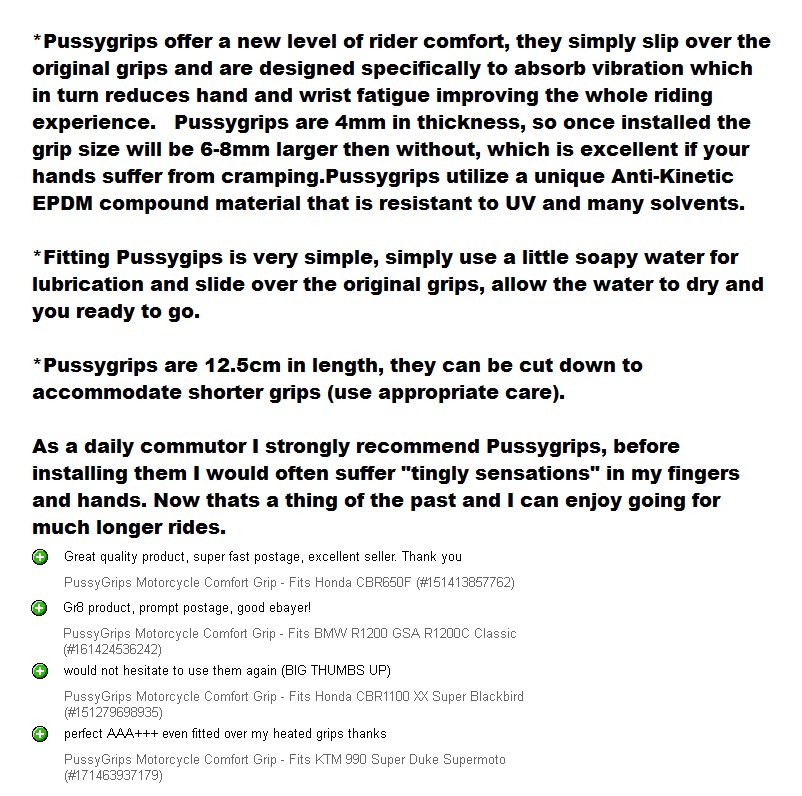 Product Videos
Custom Field
Product Reviews
Exactly what we were looking for

Perfect fit and exactly what we were looking for. Great for our BMW motorcycles. We fit them over the heated grips. Thank you

Pussygrips no more tingles!

I have these on all 3 of my bikes, DR650, CBR500, Rebel 500. They really take the buzz out of the fingers, no more tingly fingers and are comfy on rides.

I have used them on all my bikes and find them to be comfortable to use

I have installed the pussy grips on my Honda 700, and found the road vibration greatly reduced, as well as improved grip for my arthritic hands. Really this will keep me riding for a few more years yet.!!! Im very happy with the grips, easy to install and they work a treat. Would recommend them for every rider on any bike!

After some time working out how to fit them, I went with soapy water and persistence the felt soft at hand. They cut out the high frequency vibrations on the handlebars making for pleasant riding.